Client's Needs
How to identify new feasible ideas that allow a aerospace company to remain competitive, even to become one step ahead, in a call for proposal?
OUR APPROACH
Here are the 3 main phases that we followed:
2.
Coach core team for workshop animation and workshop members' initial briefing & co-animate workshop to ensure collaborative intelligence approach to operate workshop and leverage added value of results.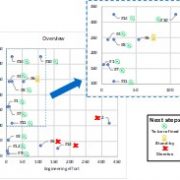 A collaborative & creative team mindset to ideate on a  product and improve its performance to remain competitive and solutions to be one step ahead:
14 innovative concepts after workshop (7 at initiation);
10 concepts shall be refined, including 5 that are highly promising;
Gap with competitor have been fulfilled before call was ended, and innovative solution allow to step ahead for the cost of an increase in business risks.