CONTEXT
One of the world leading manufacturer of elevators. 
Re-use approach was inefficient, and design rework for each new product generated avoidable costs and development time.
Every high-rise project required a high level of customization, due to :
Regions
Building (customer) specificities
No global modular approach to address these customization challenges while developing common components.
OUR APPROACH
The customer context led CESAMES to the development of a Product Line approach based on independent modules.
Here are the 4 main phases that we followed:
1.
Definition of Standard Interfaces, and decoupling strategies for all components (interfaces fixed, and defined for several sets of constraints),
2.
Development of a modular architecture, based on a a few platforms, independent modules, enabling the development of new products by combination of modules, 
Standard and capacitive Interfaces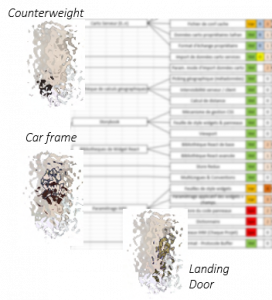 Modular architecture definition, highlighting standard and customized components
3.
Product Philosophy : "Standardize what's hidden, Customize what's visible",
4.
Setting up of an Out-ot-cycle governance, managing portfolios, defining and developing out-of-cycle processes. 
Modularization of the whole architecture : 3 platforms, ~100 modules and ~1000 modules variants.
This new approach has led to savings :
Recurring cost reductions between 15 and 30%, depending on the different platforms,
Time to market reduction, between 10 and 40% (all platforms),
Reduced development effort between 5 and 40% (all platforms).