CONTEXT
An international leader of the high tech industry, 150.000 collaborators around the world, Multi-billions € of income.
IT Servers Business Unit issues :
An unmanaged component diversity that has exploded generating extra costs,
Manufacturing lead time too important.
OUR APPROACH
Here are the 4 main phases that we followed:
1.
Construction of the IT Server 150% Product Breakdown Structure (including packaging), 
2.
For each key component, thorough analysis of sales data to determine minimal component variability (performance steps) to fully cover market expectations with a minimal number of different references,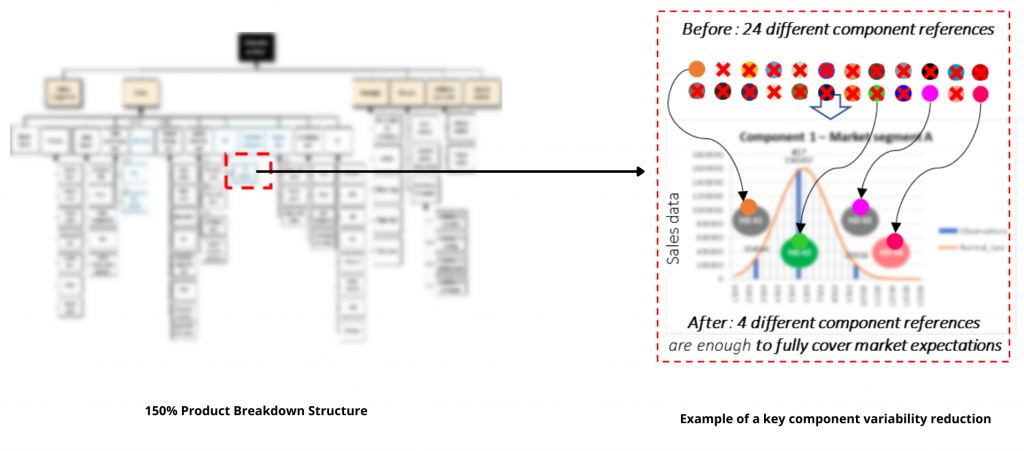 3.
Implementation of product line a configurator to automate product configuration generation,
4.
Development of a capability model to forecast component volumes & manage component stocks optimally. 
-10M€ / year reduction of inventory costs,
-75% reduction order-to-product lead time,
-70% reduction test time,
Drastic reduction of key components variability:
| | | | |
| --- | --- | --- | --- |
| Component | As-is variants | To-be standard modules | Diversity reduction |
| CPU | 35 différent CPUs | 11 standard CPU modules | -69% |
| Hard disk | 26 different hard disks | 14 standard hard disk modules | -54% |
| Back plane | 7 different back planes | 3 standard back plane modules | -57% |
| Memory | 6 different memories | 3 standard memory modules | -50% |
| RAID card | 24 different RAID cards | 4 standard RAID card modules | -83% |