CONTEXT
A multinational mining, metals, natural gas petroleum company.
Needs:
How to master the agile development and deployment of a very integrated and automated IT customer solution while creating a scalable supplier solution?
OUR APPROACH
The customer context led CESAMES to focus on 2 kinds of support:
Architecture : Modelling of Enterprise architecture and solution architectures.
Coaching: Coaching of customer and supplier key actors to use the architectures to scope and master solution increments & Coaching of solution supplier towards a cross functional mindset.
Here are the 4 main phases that we followed:
(for obvious privacy reasons we have blurred the graphics)
1.
Define Enterprise Architecture through time to identify all its key organisation, processes and interactions and support further analysis.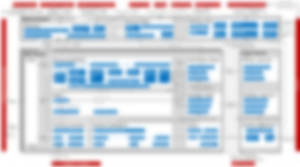 2.
Align actors on the real answer to the ambitious objectives : the presence of 4 systems of interest that require rigorous coordination, key roles and processes.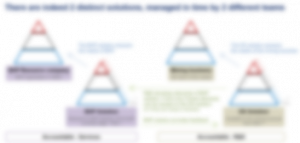 3.
Connect key use cases of the IT solutions to the mine enterprise in order to detect inconsistencies and lack of maturity.

4.
Reinforce the supplier and customer partnership by guiding the roadmap thanks to  the enterprise architectures.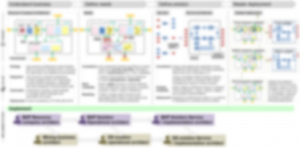 CREATED VALUE
A global alignment of the supplier and customer to ensure short term solution increments are delivered efficiently while sharing the same vision of the target :
Efficient cross-fertilization of the supplier and customer solutions;
Improvement of the partnership through standard consistent use cases, which reduced the energy loss in actor and technical alignment;
Improvement of supplier internal collaboration in order to define a globally optimised solution, breaking down historical silos.