CONTEXT
A world leader in propulsion.
Projects conducted in a far too sequential and siloed manner.

Strong and increasing safety constraints.

Engineering not challenged collectively: the large number of non-conformities and derogations shows a tendency to over-specify and to renew assumptions and solutions without challenge.
«All-or-nothing » engineering:

Difficulty in managing evolving and unclear needs to be refined
Current inability to freeze only the essential parameters according to the progress of the project
Symptoms :

Delays / successive modifications
Slowness of developments
Non-conformities / derogations
Less innovative solutions
Need to transform engineering and manufacturing "down to the part". 
OUR APPROACH
Support for framing, definition of target functions and pilot implementation projects.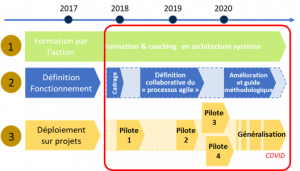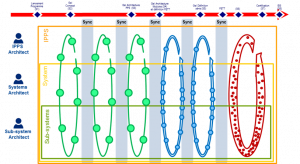 Planning: -20 to 30% measured in the preliminary and conceptual design phases
Cost: up to 70% off design costs!
-52% between launch and PDR (Preliminary Design Review)

-70% between PDR and CDR (Conceptual Design Review)
Strong decrease of reserves / recommendations impacting on milestone crossings
| | | | |
| --- | --- | --- | --- |
| Recommandations | PDR | | CDR |
| Critical | 1 | ↘️ | 0 |
| Major | 19 | ↘️ | 6 |
| Minor | 19 | ↗️ | 23 |