CESAMES training-action enables the acquisition of operational skills in systems architecture thanks to a mix of methodological training and individualized distance learning including coaching on an application project.
CONTEXT
COVEA is a group born from the merger of MAAF, MMA & GMF mutualists. This merger has generated processes and an Information System to be transformed to promote the consistency, efficiency, and agility of the group.
The architecture department of the DTSI is therefore gradually putting in place a professionalization of its architecture teams in the service of projects and convergence with 40 architects spread over 4 poles with a strong need for increased skills.
OUR APPROACH
In this context, Catherine HOUDOIN (Functional and application architect at the Technology and Information Systems – Solutions & Assets – Architecture Directorate General) followed the CESAMES training-action, for the "Company Customer Knowledge" project.
The "Company Customer Knowledge" project is part of a general context of transformation, both strategic and IT, of the COVEA group, but only concerns the MMA brand and carried by two business departments: the Business Market Department and the Customer Marketing Department. Its main challenge is to develop MMA's position on the market for companies with more than 50 employees by providing tools and processes that allow business development, increasing the quality and level of service by offering innovative services, and differentiated treatment during management acts and by directing investment choices towards priority targets.
And therefore, have a customer vision adapted to the business world in a multi-provider dimension.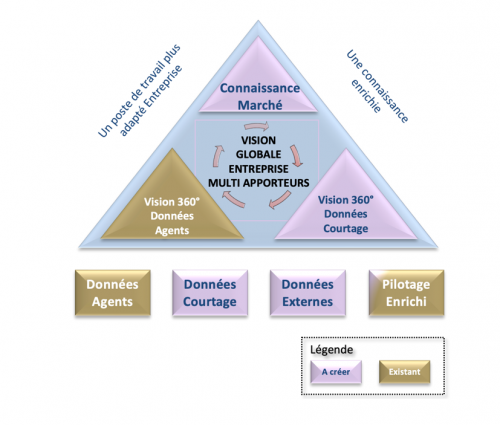 CREATED VALUE
Catherine HOUDOIN summarizes her training experience feedback as part of her project, in a few points:
1. "An asset that made it possible to properly frame his project and to propose a solution to integrate brokerage customers into the Covea CRM without impacting existing brokerage processes;
2. Operational support and a concrete and contextualized application of the method thanks to coaching;
3. A long format that allows you to go into the details of the method and to understand it well to grasp it with pragmatism;
4. A collaborative approach centered on the studied system and its environment, which makes it possible to investigate the real needs and not simply to collect requirements for a solution that the stakeholders have imagined; in this respect, the method of abstraction with the 7x7x7 rule makes it possible to offer several levels of reading and to avoid getting lost in the details;
5. A "permanent" alignment between the different plans which avoids the drift of the solution (even without tools);
6. Finally, an inter-company format that promotes very rewarding exchanges between the different participants".