CONTEXT
World aerospace company that designs and manufactures commercial aircraft and helicopters.
Project context:

Historical geometric distribution

of aircraft, and internal and external work-sharing have introduced of strong couplings on overall architectures.
Equipment customizations propagate to other equipment's, introducing valueless variabilities.
Some integration and functional tests in assembly lines only performed once equipment's are installed in the aircraft.
In-service activities and upgrades not enough considered in linefit designs.


OUR APPROACH
Here are the 4 main phases that we followed: (for obvious privacy reasons we have blurred the graphics)
1. Identification of golden rules and criteria to improve the modularity with representative of the different lifecycle phases.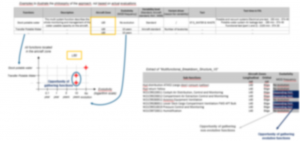 2.  Collective assessment of the aircraft functions in terms of geometrical allocation, customization level, manufacturing effort and in-service upgrade needs, from the experience on previous programs.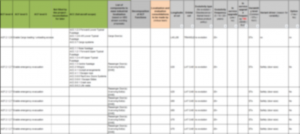 3. Calculation of compatibilities between functions.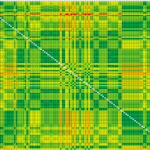 4. Diagonalization of the matrix in order to find the optimized groupings of components.
Definition of the modularization strategy of a prioritized zone for the future aircraft program;
Identification of key standardized interfaces for different aircraft variants;
Proposal of a new Product Breakdown Structure for the zone, as an input for the future Organizational breakdown structure of the development teams;
Consolidation of the integration process in the final assembly line (delayed differentiation).