the Covid-19 pandemic has called up for a radical and unpreceded paradigm change in industry
A cascaded operating model is no longer efficient for complex projects
The impact of the pending covid-19-driven world economical crisis obliges with high probability to change the market, target, products, and way to develop them for any company in order to be able to adapt permanently to this new uncertain context.
This change shall be done quickly taking advantage to beat up the competition..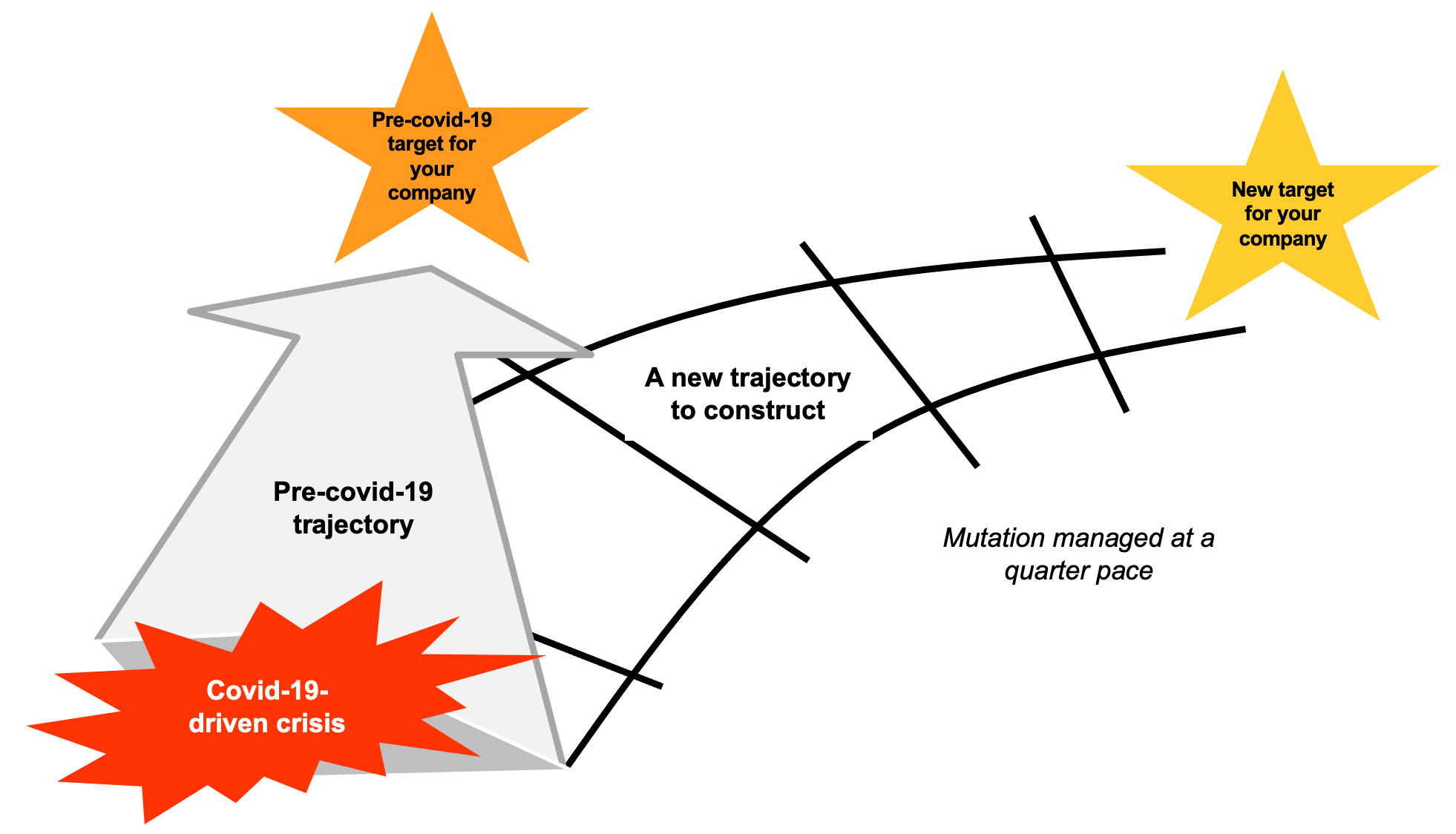 The problems are always the same: loss of control, tunnel effect, costs, quality and deadlines. Plus a structural impossibility to deal in a controlled way with needs and parameters which will necessarily evolve on such projects.
In a complex environment, it is no longer possible to predict, without iterating, the precise sequencing of the design & implementation activities to be carried out.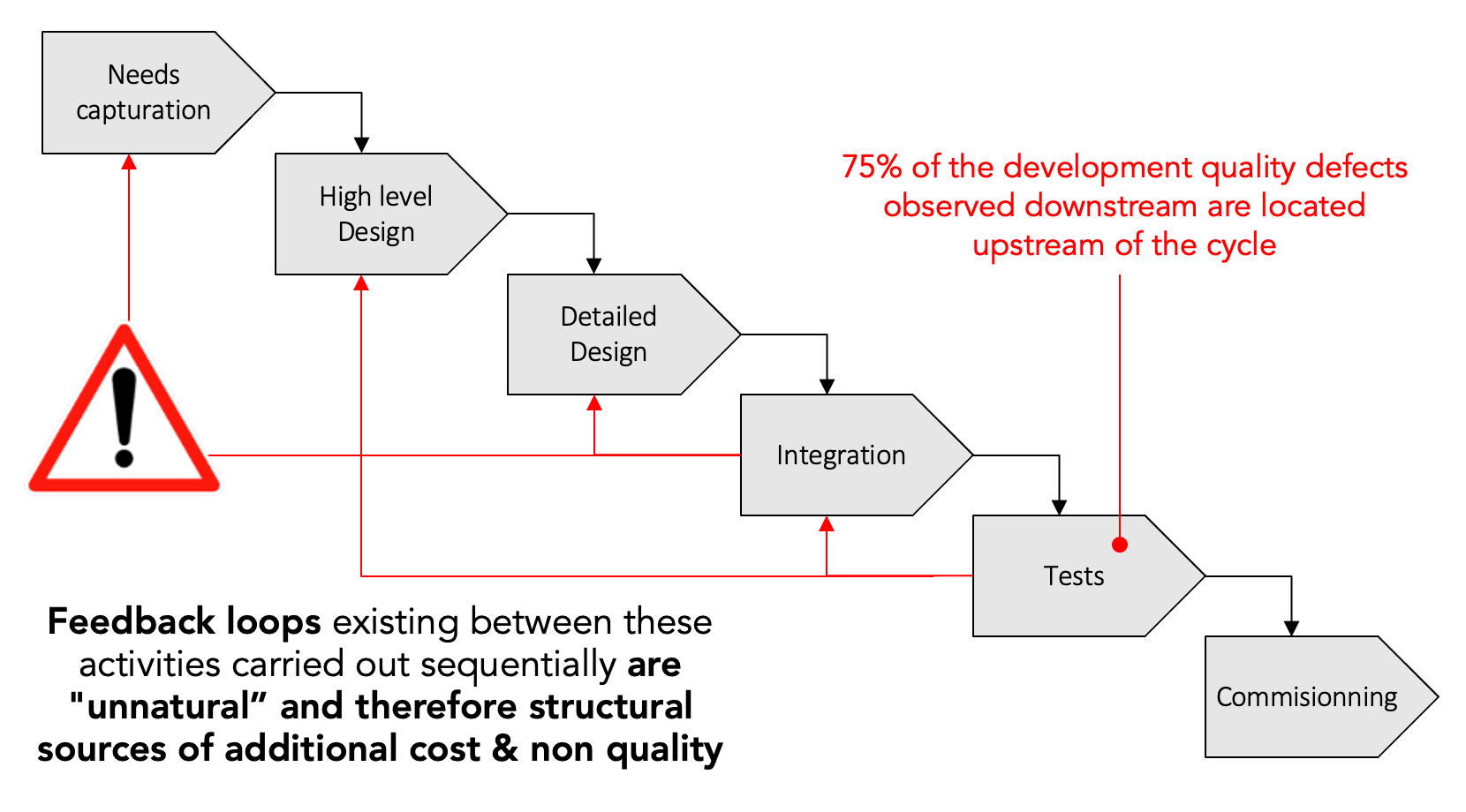 CESAMES Iterative & Collaborative Approach aims at tackling this paradigm change
This Agile Approach for Complex Systems Development shows immediate benefits
01
Frugality, control of side effects and integration at each step
It helps reduce costs while developing business by being frugal in design, development and maintenance phases and it allows to modify part of a product anytime while avoiding the domino effect (by being iterative).
02
Quick adaptation to the market and time to market
It allows to start the development of a system or a product whose needs and usages are not yet predictable and it provides differentiating & competitive solutions by balancing stakeholders point of views and the risks in tender phase.
03
Risk mitigation and project objectives achievement
It deploys agile methods while keeping a clear control on the overall project objectives and it mitigates the risks of a complex project up to 5 years ahead while making it resilient to changes.
Our integrated approach relies on 4 complementary pillars to deliver the full value of our iterative and collaborative systems engineering
Systems architecture + Common iterations punctuated by synchronization and validation rituals + Progressive validation of key design drivers + Collaborative way of working
Engineering System Agile Framework – Core principle
Product and/or services specification shall be progressively refined through an agile collaborative and tooled process

Multi-disciplinary multi-level agile collaborative and tooled process is operated through design loops of progressive downsized granularity. Such a process allows to progressively defined product by limiting design space (key design driver range).
Senior Vice President, Air Transport Sector
WITH THIS APPROACH, CESAMES HELPED US DECISIVELY MAINTAIN AGILITY WHILE CONTROLLING THE RISKS OR OUR PROJECT.
Agile Development Framework for the Industry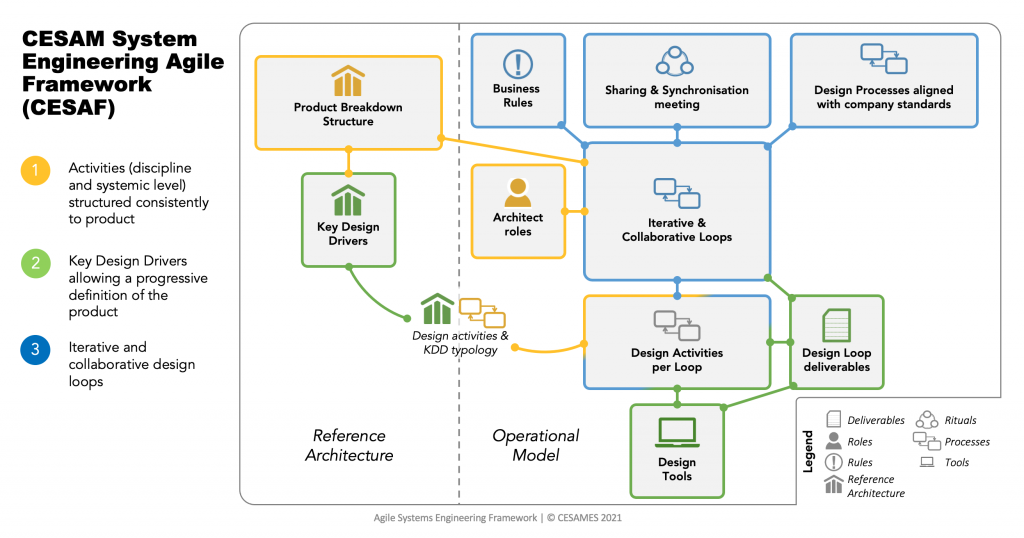 –1–
A systemic Product Breakdown Structure to master interfaces and organize collaborative work
(fig a.) The breakdown into system / subsystems / modules / etc. … which structures and describes the interfaces is the result of 3 types of analysis and modeling:
Operational: facing outwards

Functional: focused on operation

Constructional: concentrated on the components
(fig b.) — Program directors & project managers are in charge of managing project actors and external stakeholders, as well as leading the arbitrations necessary to keep project objectives at their system level — Systems architects are in charge of overall consistency, mastery of interfaces and managing the progressive convergence of hypotheses — Disciplines representants pilot & synchronize engineering studies on their field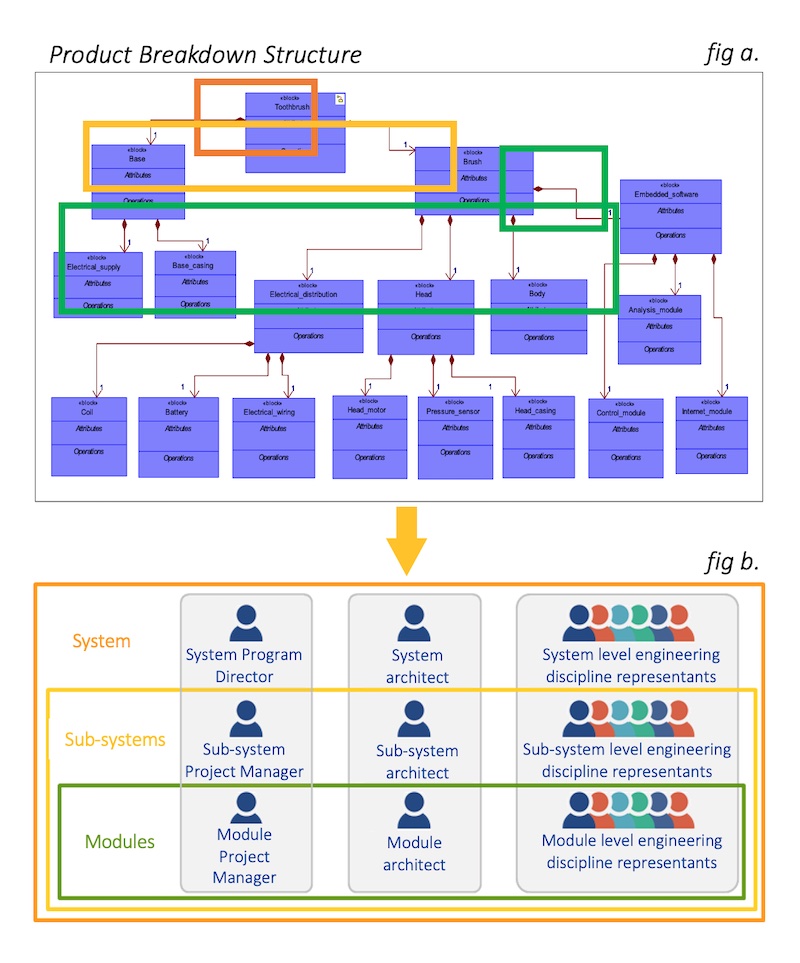 –2–
Key Design Drivers (KDD) to assess & progressively increase product maturity
Key Design Drivers are:
Structuring parameters for the design & architecture of a system, set by needs & requirements, prescribed by the upper level or environment

Specified as ranges rather than fixed values in order to allow progressive refinement of the design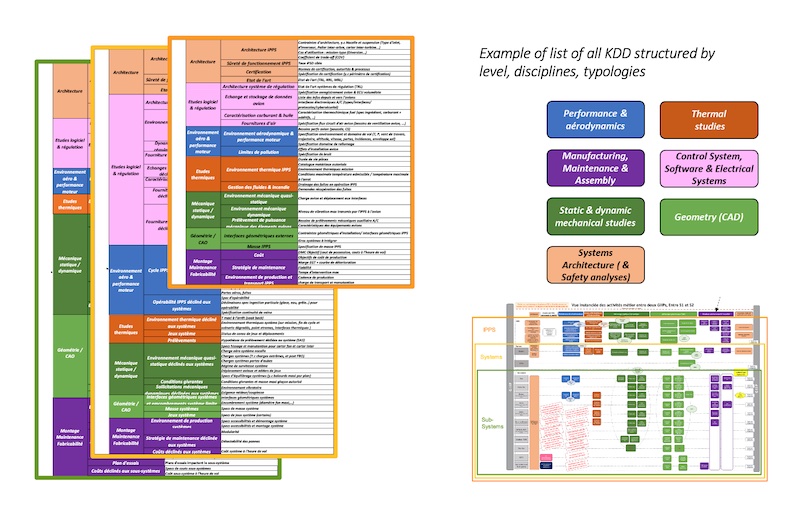 –3–
Iterative and collaborative design loops
Classical as-is development model: unsynchronized design work between 2 milestones
Target development model: organized engineering work between 2 milestones of the standard company development process in short iterations during which all actors shall work on common reference data & generate published deliverables followed by a global integration & incrementation period (*GIIP)
Slide the image to see the differences →

OUR 4 MAJOR TYPES OF INTERVENTION
01
Consulting
The key to a successful organizational transformation is the ability to mobilize the actors of this transformation. The support provided by CESAMES is structured to allow each hierarchical level to be engaged, one by one, on the direction, principles and modalities of the transformation to be implemented.
02
Operations
By delegating your system architecture to CESAMES, you strengthen your project team with a dual operational and methodological expertise. Your team is made up of an immediately productive expert while benefiting from the model-based system architecture approach, the result of years of experimentation by major industrial players: the CESAM method.
03
Coaching
Supporting you to maximize your ability to succeed in your project. Project coaching alternates flexible half-day work & coaching sessions. This device makes it possible to help a project team, or an individual to put together an Enterprise Architecture or System Architecture file in order to succeed in the design and development phase of a complex industrial product or of a transformation of organization.
04
Training
Our training will teach you how to implement an agile system architecture approach to accelerate and greatly increase value creation within your projects. The implementation of such an agile approach allows you to make the objectives of your projects consistent with the expectations of your stakeholders, the constraints of the environment and the activities of your company.