WHAT ARE THE MAIN PITFALLS WHEN DEVELOPING A COMPLEX PROJECT?
…AND WHAT ARE THE COSTLY CONSEQUENCES
Complex projects are characterized by the multiplicity of components, technologies, and stakeholders and above all by the number of interfaces to be controlled. Moreover, complex projects duration combined with the acceleration of processes and services evolutions mean that most of the phases studies will be initiated while many of the structuring parameters are not yet defined.
In this context, this leads to the following classical pitfalls:
strong Operation / Engineering, MOAD / MOE, Upstream / Downstream, Project / Project,… silos,
arbitrations carried out locally which do not favor global optimums,
too much sequential activities (each one waiting to start that the previous one is achieved),
chronic inability to share the same assumptions while needs and requirements change at all times (in particular at the interfaces between the perimeters and disciplines covered).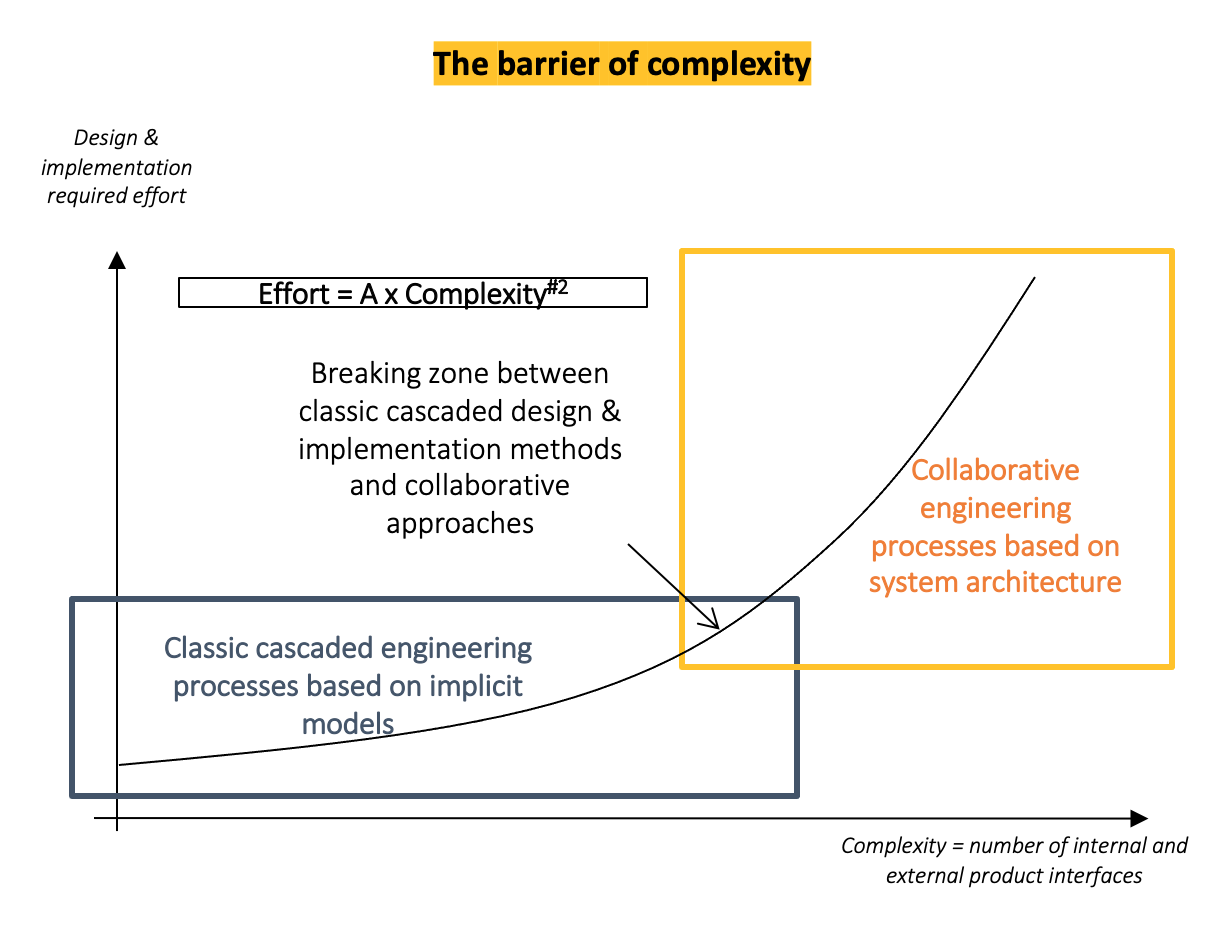 CESAMES' SYSTEMS ARCHITECTURE APPROACH BRINGS IMMEDIATE VALUE
01
by Improving operational efficiency
Systems Architecture helps reduce costs while developing business by being frugal in design, development and maintenance phases and it optimizes the ratio investment/benefit by leveraging the "just necessary" systemic approach.
02
by Guaranteeing needs coverage and smooth integration
Systems Architecture allows modifications of parts of a product anytime while avoiding the domino effect and it generates differentiating & competitive solutions by balancing stakeholders' points of views and risks in tender phase.
03
by Upskilling the project team
CESAMES upskills the team's competencies by developing internally systems architecture skills and she empowers team members so they can develop their views by themselves and they can be autonomous.
SYSTEMS ARCHITECTURE PROVIDES VALUABLE GUIDANCE TO GUARANTEE EFFICIENT AND SUSTAINABLE DEVELOPMENT WHILE DE-RISKING THE PROJECTS
OUR SYSTEMS ARCHITECTURE INTEGRATED APPROACH RELIES ON A MODEL-BASED SYSTEMS ARCHITECTURE FRAMEWORK -CESAM- AND A COLLABORATIVE WAY OF WORKING.
SYSTEMS ARCHITECTURE, A STRATEGIC COMPETITIVE ADVANTAGE
Architecture is a systemic approach and an international engineering methodology standard that provides explicit and holistic representation of a complex system.
A product, organization or information system is called "complex" when it is characterized by numerous stakeholders, needs to cover ans interconnected components.
These leads to integration issues during the design, development and production (manufacturing, operation) phases.
Using an architecture approach, when developing complex systems, enables to design the right solution and to design the solution right. It proposes rational and collaborative methods to take optimal ans shared decisions while securing and reducing cost and delivery time.
THE SYSTEMS ARCHITECT PLAYS A CRITICAL ROLE WITHIN A COMPANY
The architect is in charge of creating a common vision on a complex system among all its stakeholders. He ensures global system coherence by integrating all stakeholders' points of view into s shared vision. Its role encompasses the following competencies:
Understanding: he models problems by integrating all their dimensions
Analyzing: he finds simple solutions to complex problems
Sharing: he builds consensus within project teams
Deciding: he supports reasoned decision-making in a complex environment
Transforming: he designs and implements complex transformations
Succeeding: he secures the implementation of complex projects
Daniel Krob
AT CESAMES, WE TRULY BELIEVE THAT DEPLOYING AN ARCHITECTURE APPROACH IS A STRATEGIC ADVANTAGE FOR COMPANIES IN INDUSTRY (ENERGY & DISTRIBUTION, DEFENSE & AEROSPACE, CONSTRUCTION & INFRAS, ELECTRONICS TELECOM ROBOTICS, PUBLIC SERVICES & INNOVATION, AUTOMOTIVE, AERONAUTICS…) SERVICES OR PUBLIC SECTOR.
OUR 4 MAJOR TYPES OF INTERVENTION
01
Consulting
The key to a successful organizational transformation is the ability to mobilize the actors of this transformation. The support provided by CESAMES is structured to allow each hierarchical level to be engaged, one by one, on the direction, principles and modalities of the transformation to be implemented.
02
Operations
By delegating your system architecture to CESAMES, you strengthen your project team with a dual operational and methodological expertise. Your team is made up of an immediately productive expert while benefiting from the model-based system architecture approach, the result of years of experimentation by major industrial players: the CESAM method.
03
Coaching
Supporting you to maximize your ability to succeed in your project. Project coaching alternates flexible half-day work & coaching sessions. This device makes it possible to help a project team, or an individual to put together an Enterprise Architecture or System Architecture file in order to succeed in the design and development phase of a complex industrial product or of a transformation of organization.
04
Training
Controlling the complexity of systems and industrial projects on which you work within your industrial organizations is increasingly difficult. We propose a 3-day training to introduce you to systemic modeling and collaborative dynamics in order to help you better control the costs, quality and performance of the complex industrial systems that you design and manage.